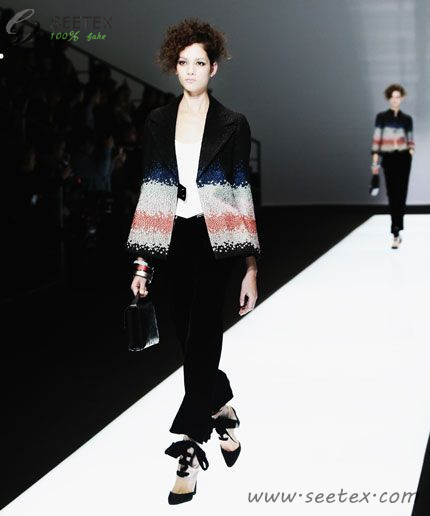 Giorgio Armani is going completely fur-free. The designer announced that he'll no longer be using fur in his collections — nor will any of the other labels in his Armani Group portfolio. Then he choose faux fur instead of real fur.
The change is in effect from fall '16 collections onward, and it applies to all of the Armani Group's brands, which include Giorgio Armani, Armani Collezioni, Emporio Armani, and A/X Armani Exchange, among others. "Technological progress made over the years allows us to have valid alternatives at our disposal that render the use of cruel practices unnecessary," designer Giorgio Armani shared in a statement. "Pursuing the positive process undertaken long ago, my company is now taking a major step ahead, reflecting our attention to the critical issues of protecting and caring for the environment and animals."
Just like Hugo Boss did when it adopted a fur-free policy in July 2015, Armani worked with the Humane Society of the United States and the Fur Free Alliance to develop this plan. Armani first spoke of his intention to discontinue the use of fur in his collections in 2007 — however, he did not commit to it, which attracted criticism from People for the Ethical Treatment of Animals (PETA), according to the L.A. Times. Members of the organization's Asia-Pacific branch organized an anti-fur protest in front of a Giorgio Armani store in Taipei in 2009.
In a word, faux fur fabric is more and more popular among us. For more ethical shopping options, the SEETEX has an up-to-date resource of brands and retailers committed to fur-less fashion.