The bedroom becomes even more of a sanctuary from the world. Rather than embarking on a complete revamp, take inspiration from the fall hues outside to make a few quick changes that will transform your bedroom into a cozy, linger-worthy retreat. And how to dress up your bedroom?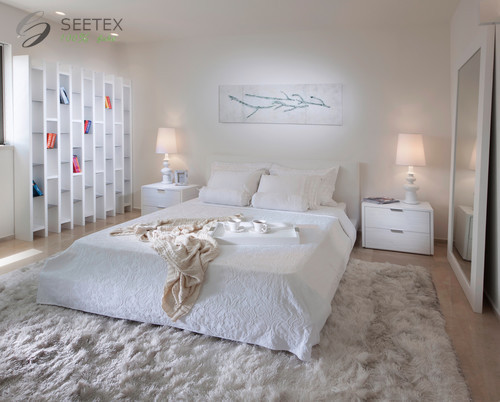 Firstly, you should find your dream rug. Fashion textured leopard faux fur rug is a better chioce. A cold, hard floor is unlikely to entice you into — or especially out of — bed in the cooler months. But even if you have carpet, a long-pile textured rug is an instant game changer when it comes to cozying up your bedroom. Make it supersized, extending under the bed if possible, so there's little chance of slippage.
Then, you should go for a throw. Invest in a faux-fur throw, which will see you through winter and make your bed as snugglesome as possible. If you can find the perfect versatile shade, all the better, as you'll inevitably be toting it into the living room for use there as well. Alternatively, a plaid wool throw combined with classic Harris tweed cushions will work wonders in a more traditional bedroom.
Last you should wow with flowers. A dash of high-intensity fall color, such as russet, amber or burgundy, in the form of plant life can really bring your bedside alive. Opt for berry branches, tall-stemmed blooms or Chinese lanterns if you want to create a stunning sculptural display. And if you're lucky enough to also have a fireplace in your bedroom, the scene will be swoon-worthy.