Christina Economou started her journey in fashion by attending Parsons and Istituto Marangoni in Paris, and won (with her graduate collection) the 2011 International Award at London Graduate Fashion Week. After briefly working for Giambattista Valli and as a correspondent for Greek Vogue in Paris, she returned to her native Athens in 2013 to fulfill her dream of launching her own label.
Her hope is to create a line that offers a sophisticated twist on classic day and nightwear using beautiful printed silk fabrics made according to an age-old tradition in the historic silk town of Soufli in Northern Greece. She said:"A few seasons ago, I was thrilled to receive interest from a great new European stockist [retailer/wholesaler who stocks merchandise] who confirmed a large order. In the interest of developing a relationship, I did not insist on the strict terms for orders. Rather than let this major setback affect my overall season, I quickly saw an opportunity after a meeting with an important department store in Athens and suggested the idea of hosting an in store "pop-up store" during the holidays. The shop was a great success and helped to increase the brand's exposure all while minimizing my losses and helping to sell some of my remaining stock. It turned out to be a great business lesson for future seasons!"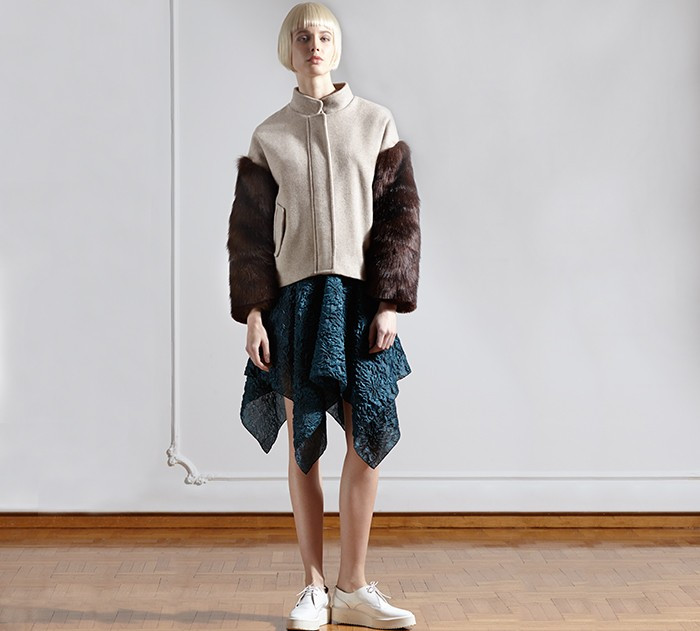 Christina Economou: Soft, rich wools and dramatic faux fur fabric combine with swakara polyester faux fur creating the perfect juxtaposition in texture and feel. Mustard yellow, petrol green, icy blues are fused together with earth tones for this soft yet bold fall collection.