Many glowing words have been written about The London EDITION since it opened nearly two years ago, and rightly so. Located in central London's Fitzrovia neighborhood just off Oxford Street and within walking distance of Covent Garden and London's West End, The London EDITION has succeeded spectacularly on all counts, and in the process has become the city's hottest—and coolest—hotel, and arguably the jewel in the crown of the EDITION portfolio. The Marriott-owned EDITION brand–the latest stroke of genius from Ian Schrager, the lodging industry's perennially prolific arbiter of cool–strives to seamlessly blend unrivaled style with peerless service while maintaining a singularly chic sense of place in a growing list of urban destinations (most recently Miami and New York). As its second birthday approaches in September, here I will tell you why the EDITION is the place to stay across the pond.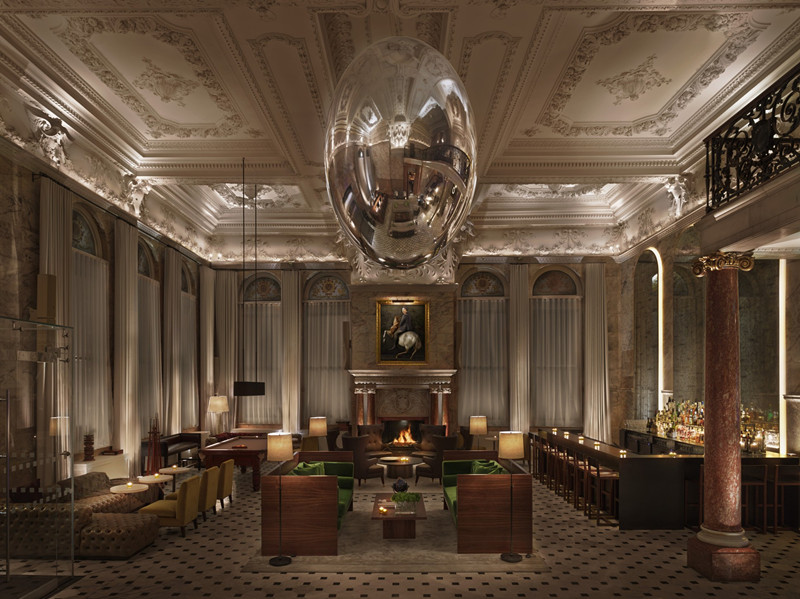 In-the-know design enthusiasts often say the best decors combine disparate elements in unexpected ways, creating layered, atmospheric interiors that simultaneously captivate and deftly defy categorization—a rare feat that The London EDITION accomplishes in both its public and private spaces.
The 173 rooms strike a delicate balance that's decidedly modern yet undeniably cozy, with walls paneled in either light oak or dark walnut, oak floors, textured leopard faux fur rug, and tufted lounge chairs upholstered in oatmeal linen. Faux-fur throws and a Baroque-framed, Vermeer-inspired photograph by Dutch photographer Hendrik Kerstens add a Schrager-esque touch (as does the hypnotic reel you'll find playing on your 46-inch flatscreen TV after turndown service, which features a baby with a comically grotesque tail surrounded by serious-looking gentlemen in black, skeleton-painted bodysuits, among other out-there images…honestly, you just have to see it). The sleek, gleaming-white bathrooms feature oversized rain-sky showers (though, in an uncharacteristic oversight, mysteriously lack outlets for hair-drying). Despite the central London location, the rooms have a distinctly airy vibe—another Schrager signature.