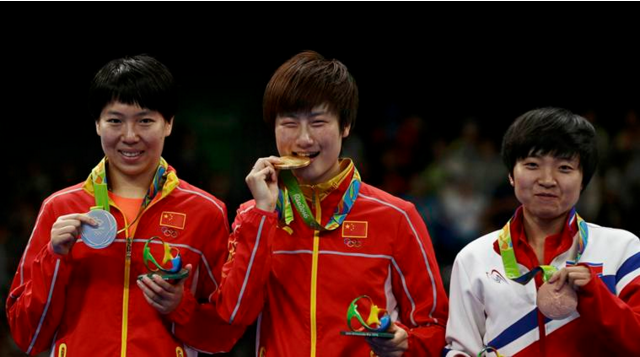 China's Ding Ning beat team mate and defending champion Li Xiaoxia 4-3 in a high-speed battle of spins and smashes to win Olympic gold in the women's singles table tennis on Wednesday.
The world number two, who left the London Games with a silver medal four years ago amid tears after a spat with the referee, fell to her knees and sobbed into her hands upon clinching gold.
"I feel that I am more mature than I was four years ago, and I feel that both parties showcased very high standards in today's final," Ding told reporters.
The two were matched set for set throughout, winning points by returning hard-of-reach shots, using trickery and sharp smashes before Li slid behind in the final set, eventually losing 11-7.
The Olympic win gives the 26-year-old Ding a grand slam of titles after her brace of World Cup wins and two world championships.
I like watching the olympics, and my favorite athlete is Dingning. Her efforts and her success inspires me to go on. I hope my company, a faux fur fabric manufacturer, will win in this filed.